Free Microsoft Windows Vista Tutorial
Bitlocker
The Bitlocker program is a new addition to the Windows Operating system. This software is only available to premium version of Windows Vista, including Ultimate and Enterprise editions. The Bitlocker program encrypts all files on the volume to ensure no one can access the data, even if they pull the harddrive from the computer and attempt to infiltrate it. This ensures that a laptop stolen will not become a tool for an identity thief. Sensitive corporate material can be protected from possible threats, which means all of our data will be safe from intrusion.
In order to use Bitlocker, the hard drive must be formatted properly. Common errors involved an incorrectly formatted drive. The drive must use two partitions, so if the drive has not been created this way, then Windows must be reinstalled to use Bitlocker. One drive will be used for the operating system while the other drive acts as the active drive to create the installation.
To setup Bitlocker, format the drive correctly, with at least a 1.5GB partition for the active drive. If Windows was installed without partitions then this would require a reinstall of Windows. Be sure to use the NTFS file system, as Bitlocker is not compatible with FAT 32.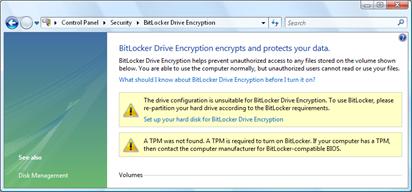 A TPM may not be found on the computer, as shown in the error message above. A TPM is a Technical Protection Measure that is found usually on the motherboard of the computer system. If your computer has this error, contact the manufacturer to see about installing a TPM.