Administering Windows 2003 – MCSE 70-290
Enabling and Unlocking User and Computer Accounts
You can disable user accounts when required. This is a necessary security measure if someone leaves the company – you may not want to delete their account until well after they are gone, but you may need to block their access to the network. If you have disabled an account and want to reenable the user, you can perform this from the user account properties screen. A disabled account appears with a red X:

Open Active Directory Users and Computers.
Open the Users container (or the container where you have your users).
Right-click on the user's name you want to modify.
Choose Properties.
Click on the Account tab.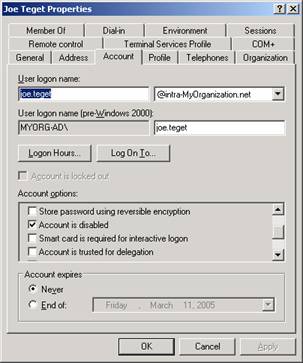 Scroll down the Account options list and uncheck Account is disabled.
Click OK.
If you have lockout policies in effect on your domain, a user could also potentially lock themselves out if they enter the wrong password too many times. You can unlock an account with the same procedure. When you get to step 6, you will uncheck the Account is locked out option directly above Account options.