Administering Windows 2003 – MCSE 70-290
Creating an Organizational Unit
An Organizational Unit is a container object in Active Directory within domains. It can contain users, groups, computers, and other organizational units. You can link Group Policy objects to an OU or you can delegate administrative authority to an OU.
If you company has multiple office locations, you may choose to setup each office with its own OU. This allows you as the central administrator to delegate individual OU administrative authority to staff at each office location.
You could also divide your company into divisions and create an OU for those divisions. For example, if you had a manufacturing company which had separate divisions for consumer products, chemical industry products, automotive industry products, and technology products, you might create an OU for each of these divisions (e.g. OUs named "AUTO", "CHEM", TECH", and "CONSUMER".)
When designing your Active Directory environment, you should determine and map out the Organizational Units you want to define in Active Directory.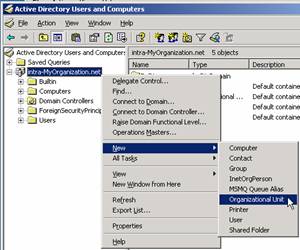 Open the Active Directory Users and Computers MMC.
Type in the name of the OU you want to create and click OK.
Your new OU will display at the bottom of the list.