Administering Windows 2003 – MCSE 70-290
Administrative Tools (Continued)
Network Load Balancing Manager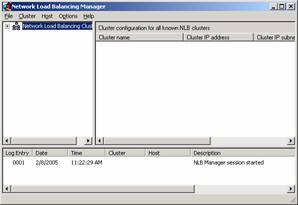 Network Load Balancing Manager is a central management application for Network Load Balancing clusters. You can create new clusters, add hosts to existing clusters, remove hosts, configure properties, and diagnose problems. Central management of Network Load Balancing makes administration and troubleshooting easier and quicker.
Performance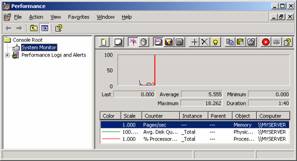 The Performance Monitor allows you to monitor performance in real time or create performance monitoring logs to capture system or process performance over time. You can monitor specific applications, processes, or hardware elements.
Remote Desktops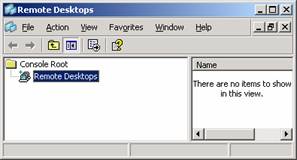 This administrative tool allows you to manage the remote desktop connections to the server. Remote Desktop is a useful tool for connecting to terminal services sessions on a server. It is also commonly used as a remote access tool for administrators. Later in this tutorial, you will learn how to use Remote Desktop to manage your servers.
Routing and Remote Access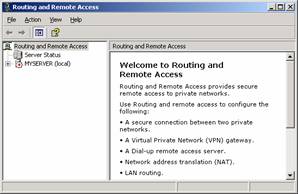 The Routing and Remote Access snap-in allows you to manage access to local and remote servers. This is a convenient way to setup secure, private servers and manage the access to them.
Services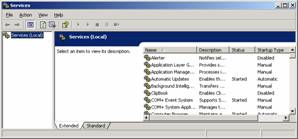 You are probably familiar with the Services control panel in Windows XP. Services are applications which run when the system is started – not just when a user logs in and starts them. Services can range from operating system specific functionality (like the Spooler service for Printing) to application specific services (like McAfee virusscan service). These services have full rights to the system so be sure you are installing only authorized applications on your server.
Terminal Server Licensing
Controls the licensing for Terminal Services. Terminal Services is a functionality of the server to allow for users to login to a "desktop" on the server and run applications on the server. Similar to Citrix Metaframe, this functionality allows you to centrally manage applications and only keep one machine up to date – the server.
Terminal Services Configuration

This utility allows you to manage the configuration of your terminal server.
Terminal Services Manager

Terminal Services Manager lets you control the connectivity of clients to your server and functions of the server.