PeachTree Accounting Training
Configuring Your Peachtree Preferences
Software Preferences
You may change your views or default page by choosing <Make this the default page> from the menu bar at the top of a page.  You may also customize your view of the Business Status page by selecting <Customize this page> from the same menu bar.  A numbered page layout assists you understanding your configured page view.

It's recommended that users set up automated backups to avoid losing sensitive information.  This can be done from by selecting <System> from the menu on the left side of the screen and clicking on <Automatic Backup>.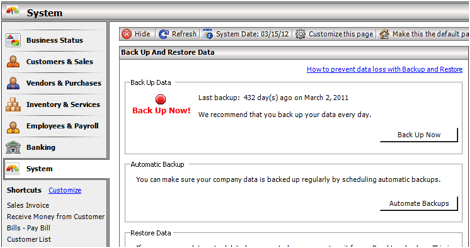 It's also recommended that you regularly archive or purge data from your system in order to keep your Peachtree Accounting Software running as efficiently as possible.  These tasks can be performed by selecting "System" from the menu on the left side of the screen.  For convenience, users may also import or export data from this screen.
If you are having trouble with your Peachtree Accounting Software, you check your disk usage and available memory in the "System" area.  You can also check for critical software updates that may affect your software performance.
Security preferences should also be set from the "Systems" page.
Sales Preferences
To change your sales preferences, click on the desired window in the Customers & Sales Tasks pane.  Choose the option to view and edit.
Next, select <Settings> in the upper left hand corner of the screen just under the primary menu.  You can also open Settings" by clicking on <Edit> on the primary menu and scrolling to <Settings>.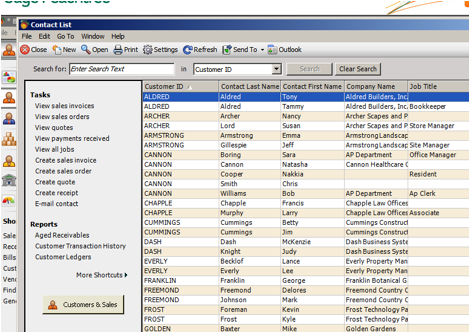 The icons in the Customers & Sales pane are arranged in an easy to follow flow chart order.  Although following this order is typically the best way to streamline your company's accounting processes using Peachtree Accounting Software, it's merely a recommendation.