Administering Windows 2003 – MCSE 70-290
The Windows Server 2003 Environment
Starting up Windows Server 2003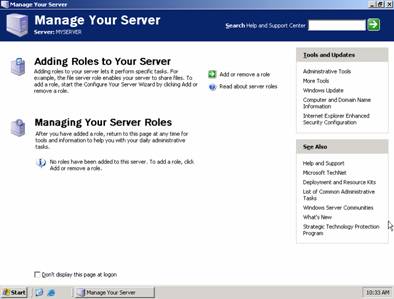 When you first boot into Windows Server 2003, your first screen is the Manage Your Server homepage. From this startup utility you can manage the roles of this server. We are going to set this server up like it is the single server in a small company and will perform all of the functions for the domain.
In a larger company, you may have multiple servers and have specific servers for specific tasks. For example, you may have multiple file servers, a print server, an email server, etc.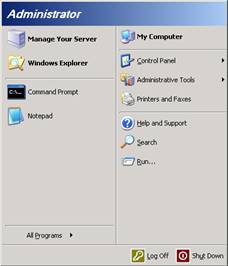 When you click on the Start menu, you will find it is more similar to Windows XP then to Windows 2000. You now have the handy two pane interface of Windows XP.
Exploring the Start Menu

When you click on All Programs, you will see the default applications on a Windows Server 2003 install. You will find the familiar Accessories from Windows XP as well as an additional link to Administrative Tools.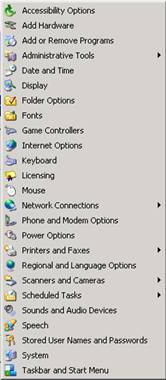 By default, the Control Panel opens a submenu instead of opening the Control Panel itself. Within this menu, you can choose any of the typical Control Panel applets to change the settings on the server. In addition, there is another link to Administrative Tools.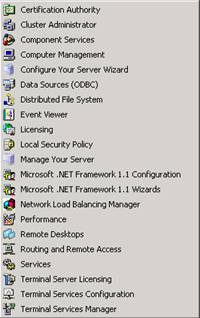 As a server administrator, you will spend a lot of time working with the tools within Administrative Tools. These utilities will allow you to edit settings on the server, setup your domain, manage users and groups, and more.