Office 2007 File Formats
Microsoft changes the file format in Office 2007, moving to an XML based format. Each of the previously recognizable formats (e.g. doc, ppt, xls, mdb) has been changed with an "x" on the end, e.g. docx, xlsx, pptx, mdbx.
This change means users of older versions of Office cannot natively open the new formats, though Office 2007 is backwardly compatible with previous versions for both opening and savings to the old file formats. When you save to the older file formats, certain objects only available in the new version are not compatible and are saved into a flat version which makes them no longer editable. By default, you will be notified when items in your document are not compatible.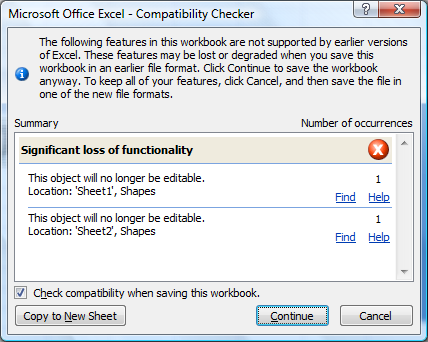 Change Default Save Filetype
If you are in a mixed environment with a lot of Office 2003 users, it may make sense to change your default filetype to Office 2003.
1. Click on the Office button.
2. Click on Excel Options.
3. Click on the Save tab on the left.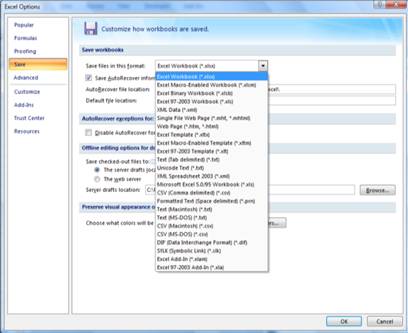 4. Click on the pull-down menu Save files in this format.
5. Select the default format you want to save Excel spreadsheets in. Select Excel 97-2003 Workbook (*.xls) for the most compatibility with older versions.
6. Click OK to save the settings.
Creating Workbooks
When you open Microsoft Excel 2007, it opens a new workbook. If you are working in Excel and would like to create a new workbook, click the Office button.
Select New on the Office menu.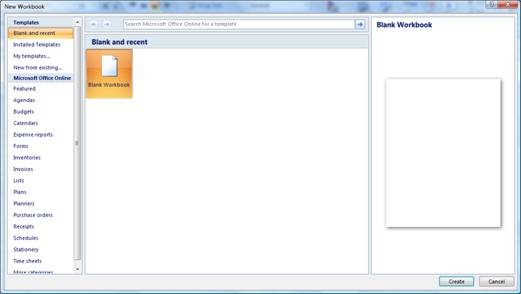 The New Workbook dialog box opens. In the box, you can create a blank workbook, or choose from many templates available installed locally and on Office online.
You can find hundreds of templates to begin your spreadsheet, or just start with a blank canvas and create your own. If you wanted to create a budget, you can click on the Budgets category to see dozens of templates with many of the categories to create your own personal budget.