Using Word Templates
Templates let you define a reusable design for multiple documents. Documents based on a template will share the same styles, layout, and formatting, which you can then adjust to suit the individual needs of each document.
Word includes a large number of pre-defined templates, which are available from the New dialog. To create a document based on a template:
Open the File menu and select New.
In the New dialog box, click the tab containing the template you want to use.
Select the template and click OK.
A new, blank document opens containing the styles, layout, and formatting of the template you selected.
You can create templates of your own simply by saving existing documents as template files:
Create a new, blank document.
Specify the settings you want the documents based on this template to use. You might define styles, for example, and lay out the page using the Page Setup dialog.
When you've finished, open the File menu and select Save As.
From the Save as type drop-down menu, select Document Template.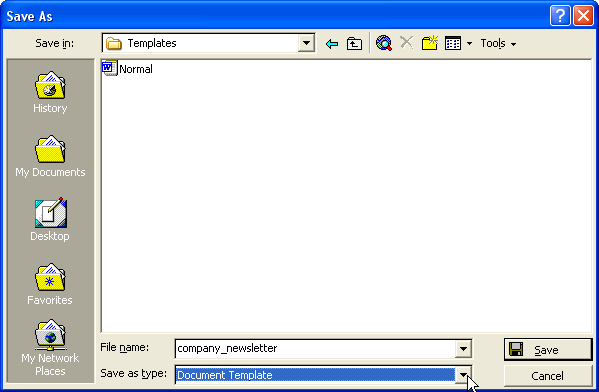 Word automatically locates the Templates folder. If you save the template here, it will appear on the General tab of the New dialog when you create a new document. If you want the template to appear on a different tab, select (or create, if necessary) the corresponding folder.
Enter a file name for the template.
Click Save.
Word uses two types of templates: global templates, whose contents are available to all documents, and document templates, whose contents are available only to the documents based on them. The Normal template, which is the default template for all new Word documents, is a global template. For this reason, it's important to be careful of the changes you make to it, since these changes will apply to all new documents you create (where you don't specify an alternate template).
To change a document template, you need to open the template itself:
Open the File menu and select Open.
In the Open dialog, select Document Templates from the Files of type drop-down menu.
Browse to the location of the template, highlight it, and click Open.
Make changes to the template as necessary, and then save and close it.